Mobile Maps on iPhone® and iPad®
Explore your BatchGeo maps while on the go—or on the couch.
We wrote our native mobile app with performance in mind. If you have an iPhone, iPad, or iPod touch, your maps are with you wherever you have connectivity.
Access all of your BatchGeo maps
Native app written specifically for iOS
Faster and smoother than mobile web
Features added with updates
Get the iOS App: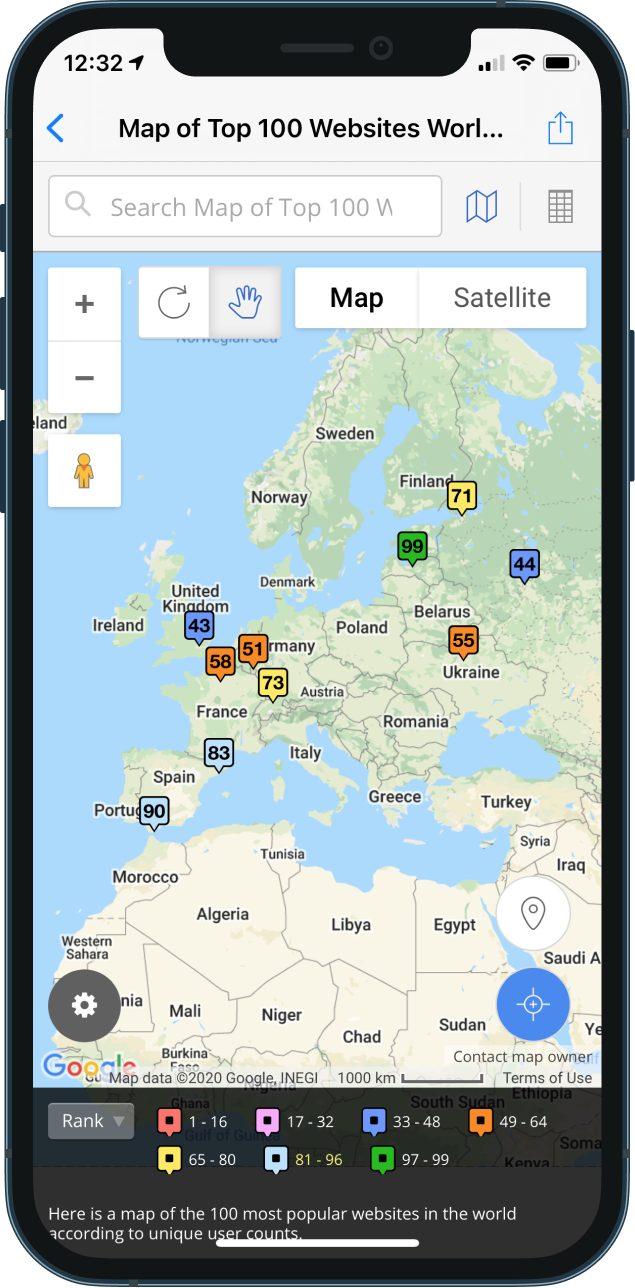 Key Features
Use GPS Location
If your device is GPS-enabled, BatchGeo will plot your location on any of your maps. Even without GPS, it makes a best guess so you can find markers near you.
Filter by Data
Your maps with additional fields, such as categories and sales values, can be filtered by one or more values. Based on our grouping feature, this provides powerful focus on the locations you want to find.
Search Your Locations
Fast, full-text search is at your fingertips across all of the data in your map.
One Tap Driving Directions
When you find the location you want, tap its car icon to swap to driving directions.
Share a Map With Anyone
Use the integrated sharing feature to send both mobile and web links by email.
Why Go Mobile?
Make Customer Visits Easy
Keep your customers—and their office locations—on a map that's always in your pocket. Plan your schedule in advance, or be spontaneous and find someone nearby at any moment. Either way, you'll benefit from taking your customers out of a spreadsheet and on a map.
Enable Salespeople with Prospect Maps
Mapping customers is great, so mapping prospects could be even better. Give your mobile map even more power by including data like deal size, region, or lead qualification status. Sales maps let you know where you leads are, wherever you are.
Take Real Estate Searches With You
Whether you're a real estate agent or an active buyer, try adding properties to a BatchGeo map. When you're visiting properties, have mobile access to your real estate maps.
Get Started with BatchGeo Mobile
BatchGeo Mobile shares maps that are associated with your email address or existing BatchGeo Pro account. Getting started is a simple three step process:
Add your email address so we can find your maps
Activate your app (we send an email to make sure it's you)